How much is a private prescription?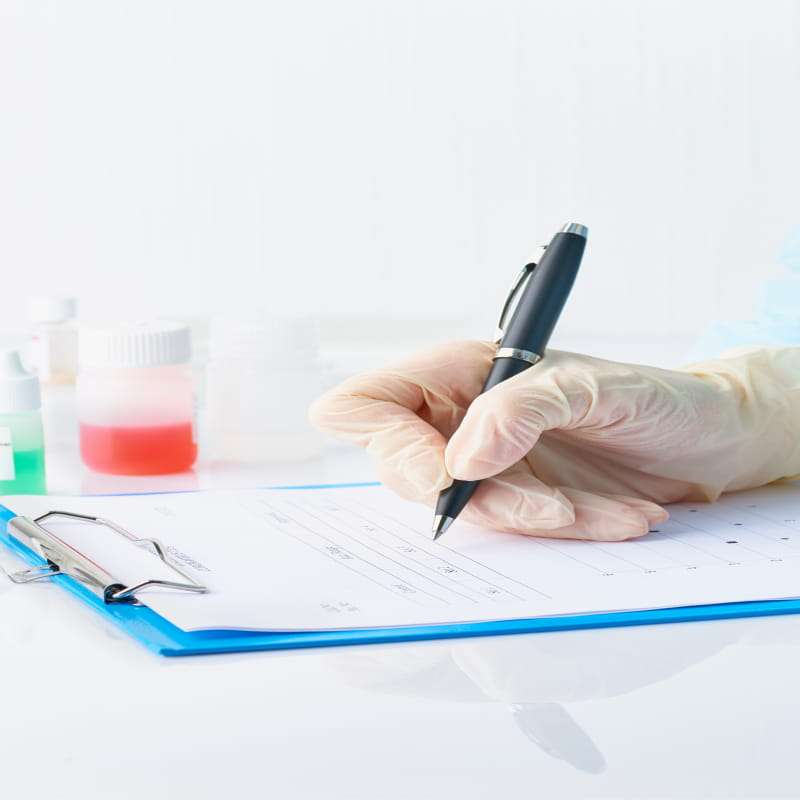 The difference between a private and an NHS prescription
The price of a private medicine varies depending on the type of medicine that you have been privately prescribed. The price of dispensing each private prescription will be shared with you during your visit to the pharmacy, you may wish to check the price before you have your prescription dispensed, so how much is a private prescription?
If you are ordering your treatment online, simply use our free Ask-a-Pharmacist service, and our team would be happy to help. You may find that the cost of a private prescription is less than an NHS prescription, however this may not always be the case. Read on to find out more about private prescription costs.
What a private prescription includes
A private medicine price typically would vary depending on a multitude of factors, such as the type of medicine, the quantity, and the individual pharmacy you're buying from. Here at e-Surgery, our online price checker will show an estimate price that includes the cost of:
Product
Prescription
Clinical check by a pharmacist
Dispensing
Packing
Professional aftercare support
The prices will also vary from pharmacy to pharmacy depending on their own individual markup, typically online pharmacies are able to provide cheaper prices compared to a brick and mortar pharmacy due to less overhead costs. This allows online services to provide your medication at a better price. In addition e-Surgery does not repackage medication, reducing waste as well as unnecessary costs from excessive packaging.
How much is a private prescription and what factors in?
The Medication
Different medication comes incurred at different costs, this can be due to how common it is, the strength of the medication, or even the brand. Typically this price difference is due to manufacturing costs of the products, with more commonly prescribed drugs being produced in larger quantities making them cost less compared to less frequently manufactured products.
The Pharmacy
Unlike prescriptions from the NHS which are constant throughout the service, private prescriptions often depend on the individual pharmacy and their own markup. With this in mind, prices may fluctuate depending on the pharmacy as well. At e-Surgery, we try to keep costs as close to the NHS prescription charge as we can, and the price you will see online includes the cost of the prescription, dispensing from our private pharmacy, packaging for delivery, and professional aftercare support.
The Brand
Often different pharmacies have different brands for sale, the most common comparison of these is generic vs branded.
Viagra, and its generic counterpart Sildenafil, both work in the exact same way and achieve the same results, except sildenafil is much cheaper than viagra. This can also be the case with over-the-counter medicine, such as viagra connect, which works in the same way as viagra, however you can purchase this without a prescription.
Prescription acne treatments such as Treclin Gel also tend to be more expensive than over-the-counter acne treatments such as Acnecide.
The Difference between NHS and Private
As with all "paid for vs free" services, there is a difference in what is provided. For example, the NHS has a standard cost for their prescriptions (although it is adjusted periodically). The benefits to an online private service like e-Surgery include:
Faster Prescriptions (we have next day delivery options and a 2-minute health questionnaire)
More convenience (Royal Mail delivery that can be delivered to your home, work, or local collection)
Discreet packaging (we only ever use plain, recyclable packaging with no indication of the product ordered)
NHS pharmacies have the following benefits:
Often cheaper prescriptions than online pharmacies (though not in all cases)
Provide you with more complex prescriptions and a face-to-face consultation
Acute condition prescribing (for current infections or emergencies)
Choosing to have a private prescription
When choosing a prescription service it might be a question how much is a private prescription or even is the NHS better? Everyone in the UK is entitled to free healthcare provided by the NHS, however there are certain situations in which charges get applied to NHS treatments, and there is also a standard charge applied to prescriptions. Receiving NHS treatment for non-acute ailments can often be accompanied by long wait times and busy GP surgeries. It's for reasons like these that people often opt to go private and use online services such as e-Surgery.
Getting a private prescription online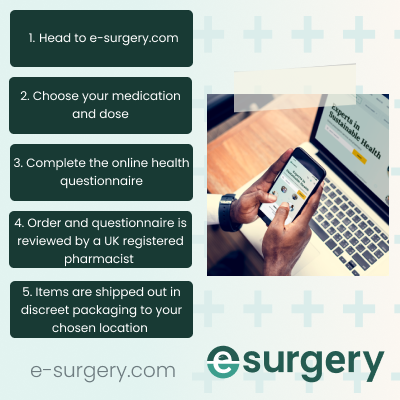 The process for obtaining a private prescription online from e-Surgery is as follows:
Head to e-surgery.com
Choose your medication and the dosage you require
Complete our quick online health questionnaire
Your order is reviewed by a UK registered pharmacist
Once reviewed and approved, items are shipped out in discreet packaging to your chosen location
Find out more about how e-Surgery works!
How much is a private prescription vs NHS?
There are a lot of factors that go into deciding whether to go with the NHS or private, such as how much is a private prescription? While the NHS might be cheaper and have the ability to provide you with lots of different prescriptions for complex and acute conditions, the convenience and speed of private pharmacies is often a decider in why people choose to use them.
Looking to order your treatment online? Here is a full list of the conditions we treat.
Sources
NHS Prescription Charges | NHS
Back To Top