DISCLAIMER: Rules, regulations, and science about the UK pandemic may have changed since this article was written in March 2020, for updated news visit the World Health Organisation or the NHS website.
We Are Here to Help…
If your workplace requires a supply of hand sanitiser we would like to help. If you know of a local charity, organisation or group of NHS key workers who would benefit from free hand sanitiser bottles contact us on hello@e-surgery.com or give us a call on 01603 931600. Feel free to let us know the name of your organisation and how many bottles of hand sanitiser you would require and we will do our best to accommodate. If you would like to support our continued donations to essential workers we are also selling hand sanitiser to the general public, the proceeds of which will go towards further donations to those who need it most. You can find out more below…
The Importance of Good Hand Hygiene
The recent pandemic and UK quarantine has caused a world-wide bid to slow rates of infection through self-isolation, social distancing and good personal hygiene and protection. This includes avoiding unnecessary contact with others (for example leaving the house more than once a day or visiting friends), wearing protective clothing when out (such as gloves and face masks) and regularly washing your hands.
This is particularly important after being in places where you are likely to come into contact with a virus or pathogen, such as supermarkets, public transport or being around those who are sick. Often when out in public spaces there is not an opportunity to wash your hands effectively with clean running water and soap. In these scenarios a portable hand sanitiser bottle is the next best solution to remove germs and viruses from your hands.
Find tips on how to stay healthy during self-isolation and the most effective way to wash your hands.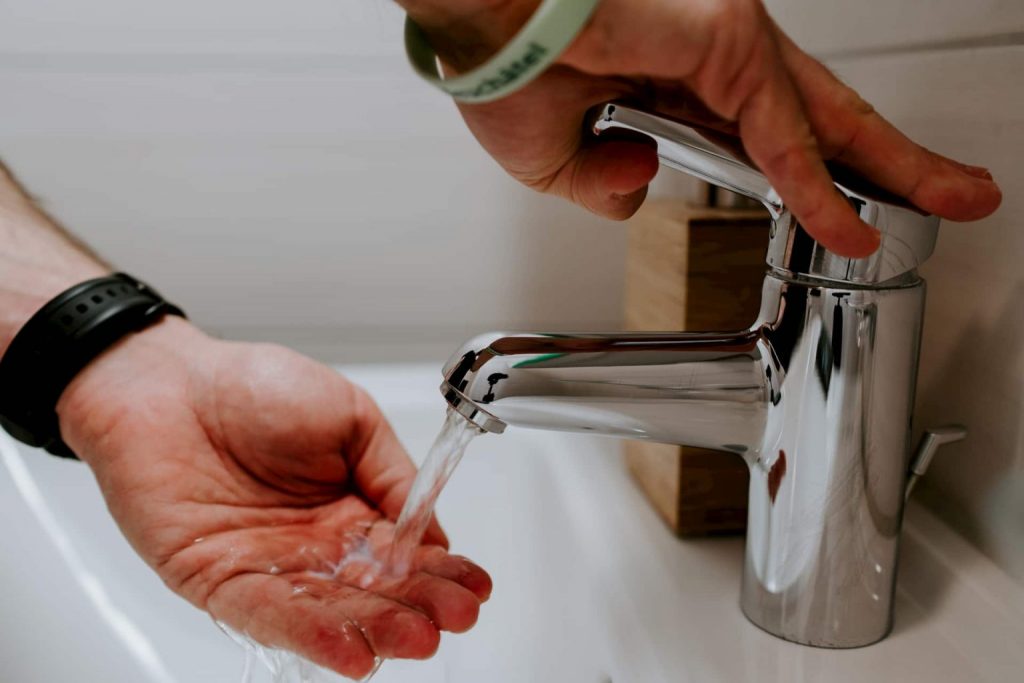 Hand Sanitiser Shortage
Due to the extreme circumstances, not just in the UK but throughout the world, alcohol based hand sanitiser and handrubs are becoming scarce. There is not only a shortage for personal use but also for healthcare professionals, carers, key workers and volunteers.
This shortage is not just the cause of stock-piling and an increased demand but also due to a scarcity of key ingredients such as Isopropyl Alcohol which cannot be manufactured in the UK so requires transport from abroad [1].
What Does This Shortage Mean for the UK?
When hand washing is not available the Centre for Disease Control recommends 'hand sanitiser with at least 60% alcohol, this can help you avoid getting sick and spreading germs to others.'[2] If the UK is unable to stabilise the amount of alcohol based hand sanitiser it could have knock on effects for healthcare staff and their patients. It could put the most vulnerable of us at risk due to inadequate hand hygiene.
What Are we Doing to Help?
e-Surgery is one of many UK based companies taking this problem into their own hands. In partnership with the University of East Anglia we have started a production of 75% alcohol based hand rub sanitiser that we will be donating a large portion of to frontline workers and volunteers.
e-Surgery hand sanitiser is the WHO (World Health Organisation) recommended handrub sanitizer with a high alcohol content (75%) that is extremely effective at killing viruses and bacteria. The portable 70ml bottle fits in pockets and is the same as what is used by medical organisations worldwide.
Due to the increased price of key ingredients we are also selling 75ml bottles of hand sanitiser to fund further batches that will be donated to healthcare professionals, key workers and essential volunteers.
We have already begun production and will continue to do so until supplies run out or it is no longer required. We will be donating a large supply of 70ml portable bottles of hand sanitiser to the Norfolk Constabulary, Norfolk Accident Rescue Service and St.Johns Ambulance. As we continue to produce hand sanitiser we will donate a large majority to organisations and charities such as these who are on the front line of the current UK lock down.
If you would like to help the continued production of hand sanitiser you can purchase 70ml bottles here, the proceeds of which will go towards ordering ingredients and production costs. Selling a small amount of hand sanitiser to the general public allows us to continue to help frontline workers who desperately need it.
If you would like to purchase further protective equipment for home or medical use you can order 3-ply surgical face masks and disposable gloves from e-Surgery. We also have a supply of paracetamol available while stocks last.
Read more about possible delivery delays due to the pandemic from e-Surgery here.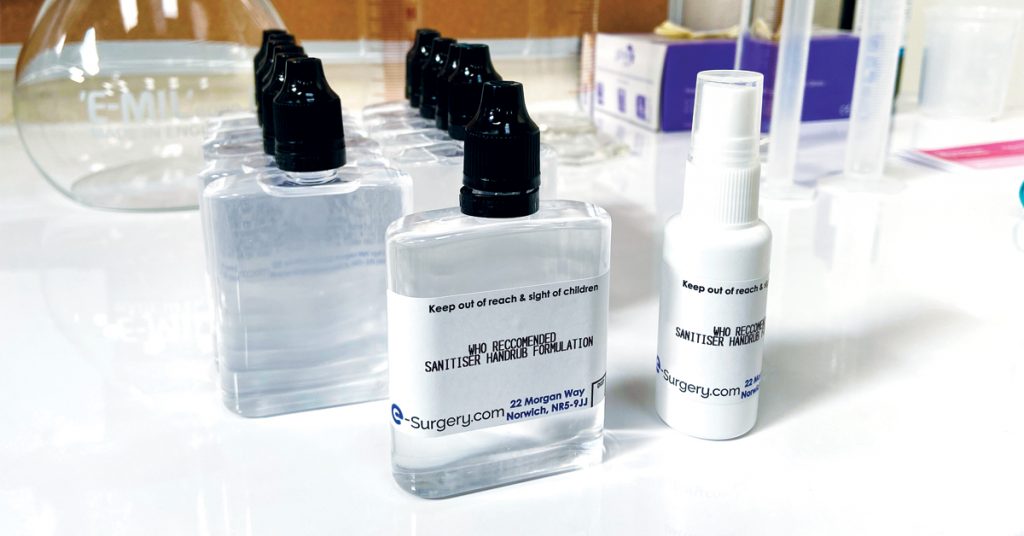 Sources
Stocks of hand sanitiser ingredient run low in Europe | Financial Times
Further Reading
How To Wash Your Hands | NHS
Coronavirus (Covid19) | GOV.UK
Are You Washing Your Hands Properly? | PatientInfo