DISCLAIMER: Rules, regulations, and science about the UK pandemic may have changed since this article was written in March 2020, for updated news visit the World Health Organisation or the NHS website.
Living Under Lockdown
The UK has recently come under lockdown in order to protect the population. Following in the footsteps of other quarantined countries such as Italy and France, the UK has now taken drastic measures to curb the spread of the virus. Non-essential shops have been closed alongside schools, pubs, and other social venues, and all gatherings of more than two people who don't live together are forbidden, drastically effecting peoples well being. People are permitted to leave their homes only once a day, and only for the following reasons:
1. Shopping for necessities, such as food or medicine
2. For medical reasons or to care for a vulnerable person
3. To do 1 form of outdoor exercise alone or with members of the same household
4. To commute to work, but only if absolutely necessary
These lock down laws are an unprecedented restriction to our daily lives, but they must be followed in order to protect the UK population. 
Many of us are now working from home for the first time, receiving sick pay or are being paid a portion of our salary while quarantined. Many of us cannot visit family or friends, our social events are cancelled, our outdoor hobbies are likely on hold, and it can seem like the world has shrunk to a space between four walls. 
It's a tough time for everyone, particularly for those who are sick, those who are caring for others and those who are vulnerable. But living under lock down doesn't have to be a prison, even during self isolation.
What Is Self Isolation?
If you or someone you live with experiences symptoms, which include a fever, a persistent cough or breathing difficulties, you need to enter self isolation. Self isolation is when you do not leave your house for any reason except for exercise once a day (but social distancing must be practiced). Instead of shopping outside you should be getting food delivered or if possible, having someone drop off supplies at your door. Visitors are not permitted to enter your home. If you live alone, this period of self isolation should last 7 days. If it's a household, it's at least 14 days.
You may choose to enter self isolation even if you do not exhibit symptoms. This is particularly relevant for those in vulnerable groups such as the elderly or those with pre-existing health conditions. For some it may be necessary to self isolate for at least 12 weeks – this is known as shielding.
So what can you do to stay active and positive during self isolation? As it turns out, plenty! Let's explore just some of the ways you can improve your well being under lock down.
Daily Exercise
We're still permitted to go outside for exercise once a day, and it's a liberty we should take advantage of. While social sports are a no-go, solitary exercises such as walking, running or cycling are great ways to stay fit and get some fresh air during lockdown. You can even partner up with a housemate – how about a jog in the park together, or a bike ride in the nearby woods? However, it's essential you observe social distancing rules when outside. You should always maintain a distance of 2 metres (or 6 and a half feet) from others, in order to minimise chances of infection between persons. Please be mindful of this when exercising.
Although self isolation still permits outdoor exercise once a day, many people will not want to risk contacting others. Thankfully, indoor exercise such as yoga, skipping rope or lifting weights allows you to stay trim from your living room. It's not just good for your body – exercise is a real mood lifter.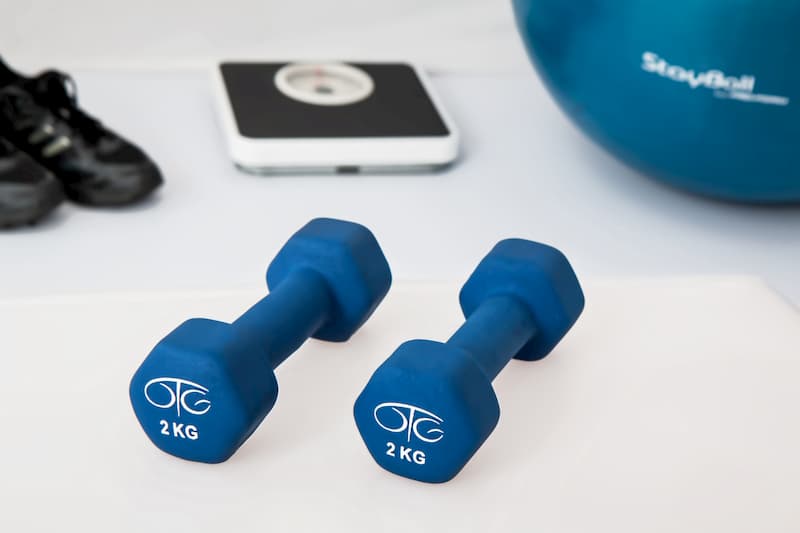 Keeping In Touch
Perhaps the thing we miss the most in self isolation is socialisation. We can't visit family or friends. There is no more drinking at the pub with a mate or joining a social club. It can really get you down if you feel like you're losing touch with your social support group. Fortunately, we live in a time in which it's easier than ever to chat to someone from anywhere in the world. 
Texting and messaging over apps is one thing, but to really feel rekindled you should be calling your relatives and friends. Hearing their voices and engaging in that natural flow of conversation helps you connect. Video calls are even better. Maybe try and arrange group video calls with family and friends, helping your older relatives to install and use the software if they're struggling. Once set up, video calls can make a lonely bedroom feel like a lively gathering. 
Try and chat to somebody over the phone or through a video call at least once a day. If you're living with housemates and aren't sick, take this as an opportunity to start a project together or arrange movie nights. It's a way to make self isolation feel … well, less isolating!
Stay Motivated
For many people, this will be their first experience of working from home. Even for those who have worked from home before, such a total switch can be jarring. It's a real break to routine, and that can be hard to handle. 
Working from home isn't so bad though right? No early morning commute, no uncomfortable office chairs. You can do your spreadsheets in sweatpants and slippers! But missing that structure can make it easy to procrastinate, or feel disconnected from your work. If you're struggling, there are some habits you can get into that help.
Set your alarm around the time you'd usually get up for work, and stick to it. Don't just sit around in PJs all day, however tempting. Having a shower and getting dressed into day clothes can make a big difference in mindset. Build a space for work that's comfortable but focused – avoid a blaring TV distracting you in the background or your phone pinging you. When you sit there, your brain knows it should be switching to work mode. Once you're done, you can leave that space behind and not feel like your job is creeping into leisure time in your home. During work hours, try and avoid reading news sites. Yes, staying informed is important, and it's something you should be doing – but it can really distract you from your work, and make you feel anxious and unfocused.
Catch Some Rays
In an ironic twist, the Coronavirus lockdown hits us just as the weather improves! Getting sun is so important, as without it we risk Vitamin D deficiency. We've already talked about getting daily outdoor exercise, but for those who don't want to risk venturing out, now is the time to take advantage of your garden, patio or balcony if you have one.
Sitting in the sun is a great mood boost. Try taking a book out, or relax with a podcast. If you don't have access to a private outdoor space, open your windows and blinds and find a spot in the house which lets in the most light. You'd be surprised how much better you can feel by getting enough sun everyday.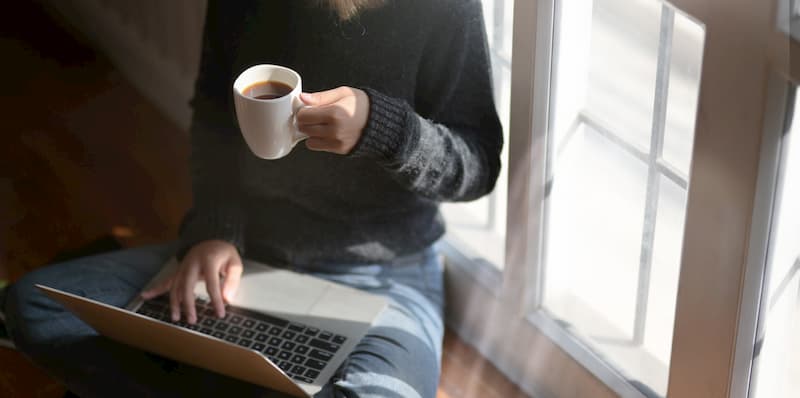 Eat Well
Eating out is off the menu under lockdown, so we need to get used to only eating at home. If you're in self isolation, you shouldn't even be leaving the house to get groceries, instead relying on delivery services or people who can shop for you. If you've only stocked up on chicken and mushroom soup, your diet is not going to be the most fulfilling! 
When you do stock up on food (and keep in mind you're restricted to no more than two items of a kind), try and get a range of products so you can continue to get a balanced (and less boring) diet during self isolation. A lot of cheap basics such as tinned tomatoes, beans and lentils can form the basis for some great home cooked meals if you know a recipe. Make sure you're getting your fruit and vegetables, in particular not missing out on Vitamin C or zinc.
Many places are still offering take away, which can be a tasty morale boost now and then. But it's expensive, and not always super healthy. Perhaps take this time to learn how to cook some new meals – it can be a really fun and ultimately tasty activity!
Follow Health Advice
It can be easy to feel powerless in a situation like this. But there are a lot of things we can be doing that directly help. Self isolation is a big one. If you're living with others, make sure to isolate as a household for a minimum of 14 days. During this isolation, look out for one another. If you or someone you live with is symptomatic, practice social distancing as much as possible within the house, and make sure to clean surfaces thoroughly if you're sharing rooms. Always cough into tissues, disposing of them immediately into the bin. Wash your hands throughout the day, making sure to follow the 5 Steps To Hand Washing. It's particularly important to wash your hands as soon as you get home if you leave the house for exercise. When you do leave the house, always maintain a distance of 2 metres from others.
By following the official health advice, we're helping to combat the spread of the pandemic and keeping ourselves and our loved ones safe.
Can I Get My Medication Online?
During self isolation, you shouldn't be leaving the house, even for medicine unless it's absolutely necessary. Of course this is a concern for many people who need access to medication, from asthmatics needing Inhalers to people looking to get a pack of Paracetamol.
Thankfully, medication can be ordered online through reputable online pharmacies such as e-Surgery. We deliver exactly what you need quickly and conveniently to your front door, in discrete, recyclable packaging. If you're in self isolation, using e-Surgery is a sure way to get the medication you need without leaving the house, and takes pressure away from vital health services such as the NHS.
We're currently stocking products for cold and flu such as Paracetamol and Echinacea Tablets, hygiene equipment such as 3-Ply Surgical Face Masks, protective polythene gloves and alcohol based hand sanitiser, as well as offering COPD Rescue Packs for those who need them.
Further Reading
Coronavirus And Mental Health Tips | Mental Health Foundation