Designing an online pharmacy: e-Surgery has a new look!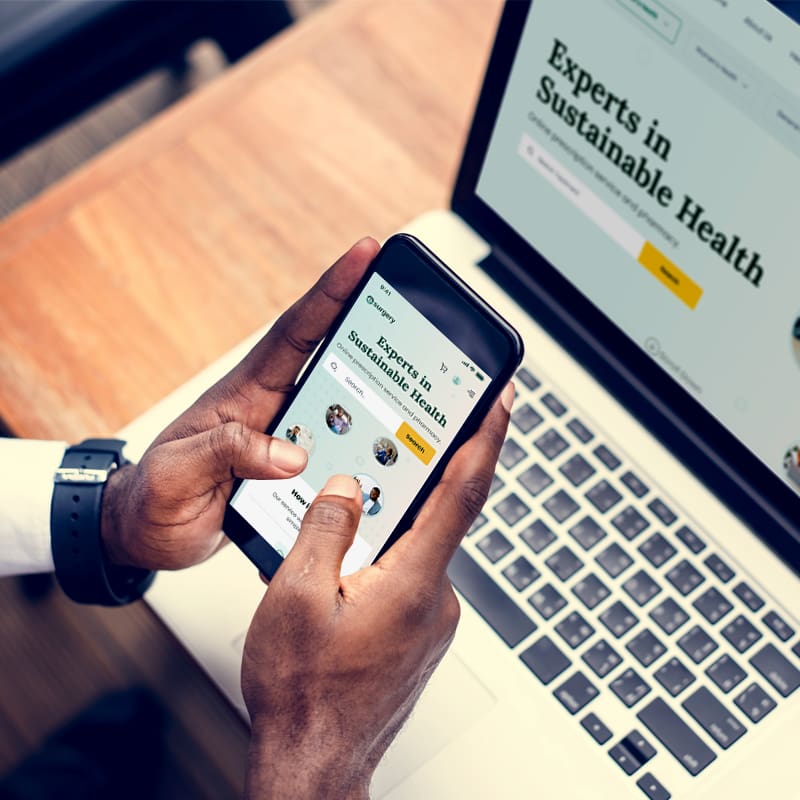 There's been a couple changes at e-Surgery
If you're new here welcome! If you've visited us before, you may notice we have made a few changes.
Fortunately for existing and new customers we still operate the same reliable, convenient and affordable service that works in three simple steps, we are just a little more user-friendly.
Why did we decide to re-brand e-Surgery?
e-Surgery is not a conventional brick-and-mortar pharmacy, the main point of contact for our customers is our online presence and digital service!
In 2019 we had a major overhaul of e-Surgery's branding, a significant change was made from blue and white to green and yellow, but our new style change is not so dramatic. As our number of patients and staff has expanded, we felt it was vital that e-Surgery's visual appearance could adapt to an ever-changing healthcare climate. We wanted a website that not only reflected our company values but continued to meet our patient's needs.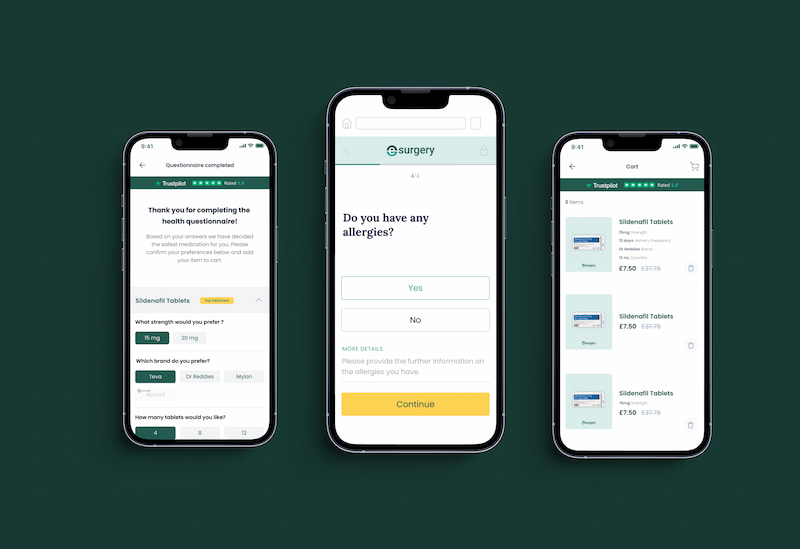 What have we changed?
We have ensured that the following was at the heart of our re-brand:
Ease of use
Across our three years of service, we have been collecting feedback from our patients, colleagues, and investors on how to improve our website usability. With the data collected, we have been able to ensure that our design is user-centric making it easier for you to place an order or find the appropriate information you need online from e-Surgery.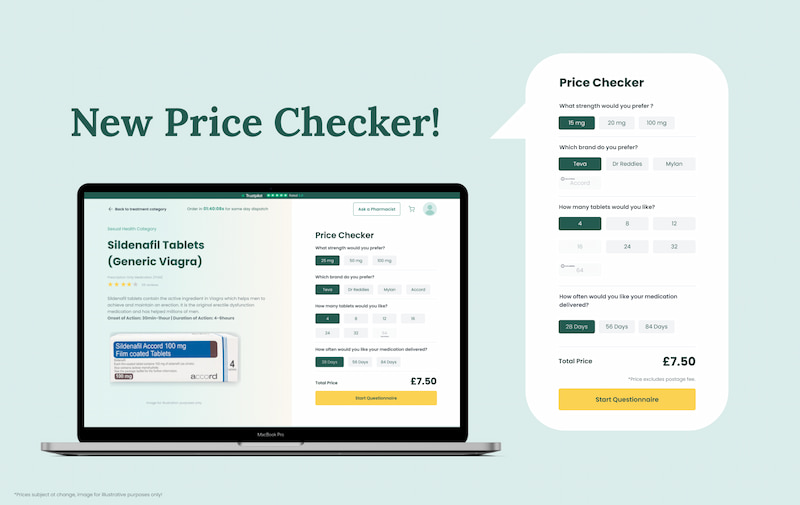 Extensive and accessible knowledge
At e-Surgery, we are proud to work with a gold standard of clinical professionals that can safely prescribe medication and offer clinical advice to our patients. Patient aftercare is important to us. With our expanded clinical team, we have been able to focus on generating informative blog content and updated FAQs supporting patients through an extensive range of clinical and medical advice from a creditable source.
(Take a look at our monthly inhaler tracker and migraine tracker downloadable PDFs!)
Minimal clinical jargon
Alongside expanding our available clinical information for successful and exemplary patient aftercare, we have also worked hard to ensure that our re-brand is professional but not clinical and cold. Within our health questionnaires, we have minimized the number of questions we ask and optimized the information we collect from patients to determine medication safety and a simple quick process to ordering medication online!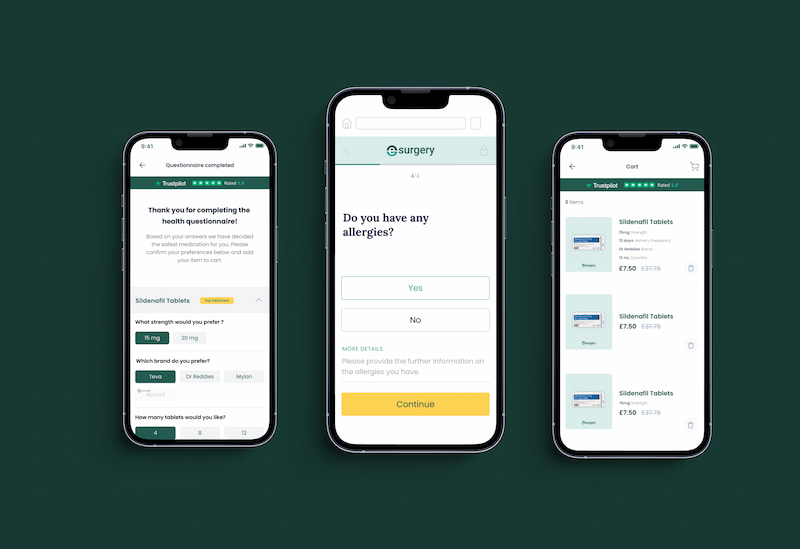 Values true to our work ethics
Our values have not changed at e-Surgery, we are still proud to be the UK's experts in sustainable health through providing an online prescription service to our patients! Despite not changing our values, we have adapted our brand voice and understand the importance in using it as a company to show how we honor our values every day. Our new brand values make it easy to understand why we do what we do, and help us keep our overarching motives in sight!
Environmentally Conscious
We are committed to change for the better, this is why we are powered by renewable energy servers, have developed a paperless prescribing system, do not repackage medication where possible and ship all of our orders in recyclable packing.
Experts in Health
We only work with the best UK regulated prescribers and pharmacists, who are available at any time through our FREE ask-a-pharmacist service. Our excellent patient care team has proudly achieved 5 stars on TrustPilot, they are always happy to help!
Empowering Change
We are constantly innovating for efficient healthcare using cutting edge technology and creative solutions. Our multi-award-winning AI prescribing system allows us to connect with people nationwide in our shared journey to better health.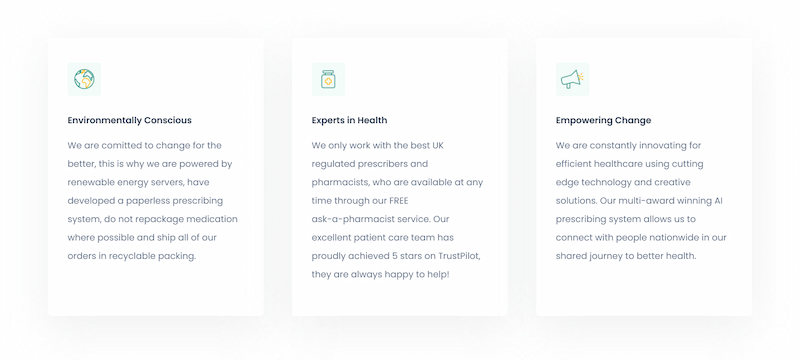 Expandable design assets
Finally, when completing our re-design, we wanted to ensure that we had a clear focus on e-Surgery's future and how it would grow and expand with the right expendable assets. Living in a digital age means constant change but we understand this can be frustrating as a service user so we wanted to center our new design on a structure that can serve us for many years to come!
We have adapted our color scheme for a more modern and cleaner visual, tidied up our icons, simplified type choices and set out some distinctive guidelines on how our branding is used (including our fancy new Instagram layouts). Over time these assets may appear stylistically different, but we hope they will continue with us for the rest of our journey!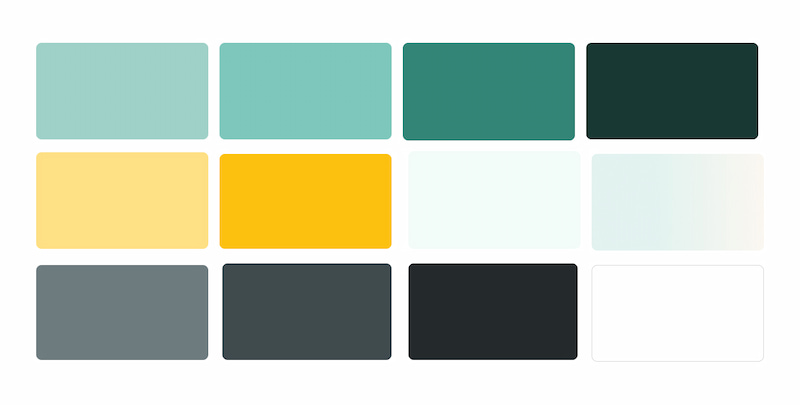 Do I need to make a new account?
Thankfully we have been able to migrate all our existing patient data so you will not need to make a new account! We do advise all our existing patients to log into their account and review their clinical information in case of any changes to their health which has yet to be disclosed with our clinical team.
If you experience any problems logging into your account or wish to disclose changes to your health with our clinical team, please contact our patient care team between Monday – Friday 9am-5pm. They are always happy to help!
I can't find what I am looking for!
Some of our information has been moved to a more appropriate location! If you cannot find the information or product you are looking for, please use our search function that is well adapted to look through all of our resources.
Still can't find what you are looking for? We are so sorry for any inconvenience caused, please contact our patient care team by phone call or live chat and they will happily point you in the right direction!
Here's a reminder of how it works!
Our service hasn't changed but in case you haven't ordered in a while, or are new here, here's how it works:
Choose your treatment
Search for your medication or condition and select a treatment. For help and guidance on choosing your medication, you can use our FREE Ask-a-Pharmacist service, we are always happy to help! 
We are regulated and all of our stocked medication is legal and safe to use within the UK. Our medication brands are identical to those you would receive from your local community pharmacy.  
You can order your medication simply online but if you need extra assistance our patient care team is happy to place your order over the phone.  
When choosing your medication from our 35+ treatment categories ensure you select which dose, quantity, and brand you require. This extra information allows our prescribers to provide you with the quickest and most effective service.  
*Please be aware that we only provide treatments to patients over the age of 18.
Complete a health questionnaire
Once you have filled in our quick and easy health questionnaire our expert prescribers will check that the treatment requested is safe and effective.
The health questionnaire is no different from the general questions you would be asked from your regular GP. This may include some of your medical history and information on the condition you are looking to treat.  
Please answer the health questionnaire honestly, this will ensure that the medication you are requesting is right for you and we are able to provide the best healthcare solution.
Our service is fully discreet and confidential, we will not share any of your personal information unless you permit us to do so with your regular GP. We may contact you if we require further information regarding the answers you have provided. 
Wait for your delivery
Once your medication request has been approved by our clinical team your treatment will be shipped by Royal Mail in discreet and recyclable packaging.
Our most popular shipping is Royal Mail Tracked 24 but the option for Tracked 48 and Special Next Day Delivery by 1pm is also available. Orders over £30 will automatically be upgraded to Royal Mail Tracked 24 free of charge. 
Once your order has been dispatched from our pharmacy, you will receive tracking information via email. Please be aware that delivery to remote Scottish Highlands and British Isles may take longer.
Sustainable health is our priority, our service extends past your delivery date! Our patient care team is available from 9am – 5pm to provide continued support and advice about your treatment.
What is next for e-Surgery?
We are at no illusion that our most recent re-brand will be our last but for now, we have found something that fits true to our values and goals for the future. We've built a brand that aspires to be approachable and allows our vision of sustainable health to project into the future of healthcare, putting patients first!  
Back To Top