Erectile dysfunction (ED) is common among males over 40 and makes it difficult to get and keep an erection during sexual activity.
It may become a significant problem in some people's sexual lives. However, some safe and effective medications, such as Viagra (and its generic counterparts), can help tackle this issue.
Unfortunately, the world of ED medication has a dark side since countless fraudulent ED pills on the market are aimed towards males seeking therapy. Some of these fake ED tablets appear to be very genuine at first appearance, but they have not been approved for sale in the UK.
This indicates that the counterfeit tablets have not been subjected to safety assessments. They could have anything in them, including potentially harmful chemicals.
Similar to Sildenafil (Viagra), you may have heard of Sildamax, an unregulated erectile dysfunction drug, but do you know what it is, where it comes from, and whether it is safe? Continue reading to discover more about this medication. [1]
What is Sildamax?
Sildamax is a medicine used to treat erectile dysfunction and other impotence problems. Sildenafil Citrate, the active ingredient in Sildamax, is the same active ingredient found in Viagra. It works by relaxing blood vessels which help increase blood flow in the genitals.
This medicine is made in India; however, the product (usually sold in the form of a 100mg tablet) has not passed quality control testing to be sold legally in the UK. [2]
Is Sildamax legal in the UK?
Did you know that over £15.6 billion worth of Sildamax was recently seized at the UK border? [2]
Sildamax is not licensed to be legally sold in the UK; hence it is not monitored or regulated. It's hard to know how much of the active drug the tablets contain, if any, or if they include any dangerous compounds that could harm the body.
Many of the seized counterfeit medicines contained additives and illegal drugs. In other words, even if you've had good luck with one batch of this product, you never know what you'll get in the next.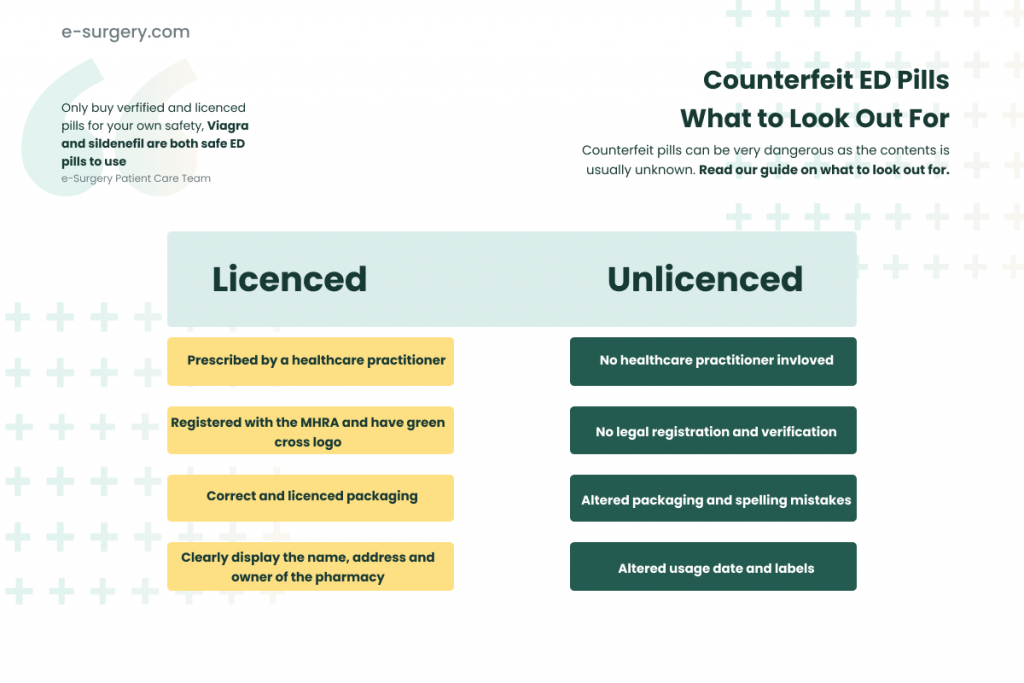 Is unregulated ED medication dangerous?
Did you know that talcum powder and cement have been found in counterfeit Viagra?
Unregulated ED medications are unregistered, which implies they failed quality control tests, and it is unknown what kind of drugs they might contain.
Additionally, if they include any active substance, the amount may differ significantly from what is advertised on the package, and it may contain dangerous additives. Ingesting such medications is extremely unwise as they can be incredibly dangerous, poisonous, or even lethal.
As a result, the health risks associated with these counterfeit products are well-known, and documented concerns are on the rise. Counterfeit drugs are causing heart attacks and strokes in healthy persons who purchase them from shady websites. 
Because Sildamax is illegal and unlicensed, we can't determine its specific adverse effects. Redness in the eyes, headaches and a flush in the face are common side effects of Sildenafil (the active ingredient in Sildamax). If you have any cardiac problems, you should avoid using Sildenafil since it causes low blood pressure.
Thus, do not risk your health to save just a few pounds and only buy registered medication from safe platforms and pharmacies. Also, always speak to your GP before starting a new drug to check for any medication interactions. [3]
Is there an alternative to Sildamax?
Sildenafil (Generic Viagra) is the active ingredient of Sildamax, which may be purchased online from trustworthy licensed suppliers like e-Surgery. e-Surgery online also sells Viagra and Viagra connect tablets.
Sildenafil and Viagra have been confirmed safe and effective in legal tests.
The only difference is the brands name, which contributes to the price difference. Apart from that, Viagra and Sildenafil are identical.
The quality and potency of these medications are ensured because they are acquired from genuine UK providers. A registered UK doctor will also double-check it to confirm that it is completely safe for you to consume.
Conclusion
Don't be discouraged if you have ED; it's a common problem among males. A variety of things can cause ED. This could be a contributing factor if you live an unhealthy lifestyle in any way, so aim to keep a healthy weight and exercise often.
Also, quit any unhealthy habits like sleeping irregularly, drinking a lot of caffeine, or smoking. If your problem persists, you should seek advice and a prescription from your doctor.
There are also numerous genuine internet pharmacies, such as E-Surgery, that offer erectile dysfunction treatment. Ensure that the service you choose is GPhC-registered and has the green GPhC pharmacy mark.
Sources
Be Aware: List Of Fake ED Tablets Sold In The UK (e-Surgery)
A New Tablet Called Vidalista Is Sweeping The UK (e-Surgery)
Further Reading