Erectile Dysfunction (ED) is still considered a taboo topic in our society, even though most men will experience this issue at some point in their lives.
Discussing these issues with a doctor may be challenging, which is why most men do not acquire a prescription or treatment. However, there is a new option called viagra connect, the first ED treatment available without a prescription.
Viagra connect and Viagra are two of the most commonly prescribed ED medications. Let's look at the differences of Viagra connect vs Viagra.
Table Of Contents
What is Erectile Dysfunction/ED?
What is Viagra?
What is Viagra connect?
What is generic sildenafil?
What is the difference between Viagra vs Viagra connect vs sildenafil?
How do I know which option to choose?
Can I get Viagra and Viagra connect online?
What is Erectile Dysfunction/ED?
Did you know that, according to a study published in the Journal of Sexual Medicine, only around a quarter of people who have been diagnosed with erectile dysfunction (ED) seek medical care?
Erectile dysfunction (ED) is a common condition that limits your ability to get or keep an erection long enough for intercourse.
Most of us will almost certainly encounter it at some point in our lives. Despite this, the majority of us will not seek treatment for ED. [1]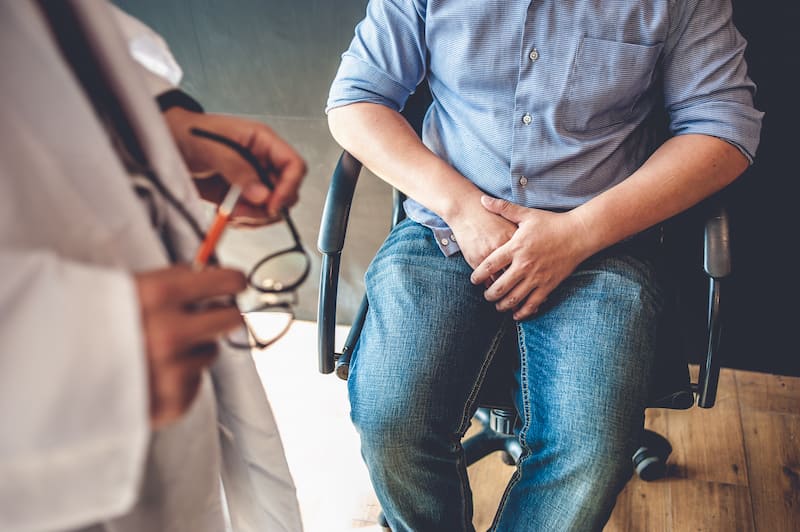 What is Viagra?
Viagra is one of the most widely used erectile dysfunction medications globally, and it has helped countless men sustain their erections. Sildenafil, the active component, is what makes it work.
Sildenafil allows men to stay harder for longer by relaxing blood vessels in the penis and increasing blood flow. It works best if taken an hour before sex, and of course, one must be aroused for the medicine to work. [2]
What is Viagra connect?
Both viagra and viagra connect are made of the same active ingredient sildenafil citrate, which increases blood flow to the penis briefly, allowing you to get and keep an erection while sexually stimulated.
However, viagra is available in three different dosages: 25mg, 50mg, and 100mg, whereas only the 50mg version of Viagra Connect is available. [3]
What is generic sildenafil?
Generic sildenafil tablets contain the active ingredient in viagra that aids men in obtaining and maintaining an erection. It is the first and most effective treatment for erectile dysfunction, having treated millions of men.
This drug is also used to treat pulmonary hypertension, a fancy name for high blood pressure in the blood vessels that supply the lungs.
Men above the age of 18 can use sildenafil (viagra) for erectile dysfunction. It is not appropriate for women or children. [4]
What is the difference between Viagra vs Viagra connect vs sildenafil?
Pfizer makes both viagra connect and viagra, which have the same active ingredient (sildenafil citrate) and perform similarly. The difference between viagra and generic Sildenafil is nothing but the manufacturer's name, the box's name, and the colour.
Furthermore, a minor visual difference between viagra and viagra connect is that V50 is stamped on the side of the viagra connect tablet, whereas VGR is stamped on the side of the viagra tablet, followed by 25/50/100, depending on the dosage.
Slidenafil tablets (generic version of viagra), on the other hand, are much cheaper. If you have any medical issues or are taking any medications, you will be asked. [5]
Use our handy infographic to help visualise the differences more clearly if you are still unsure!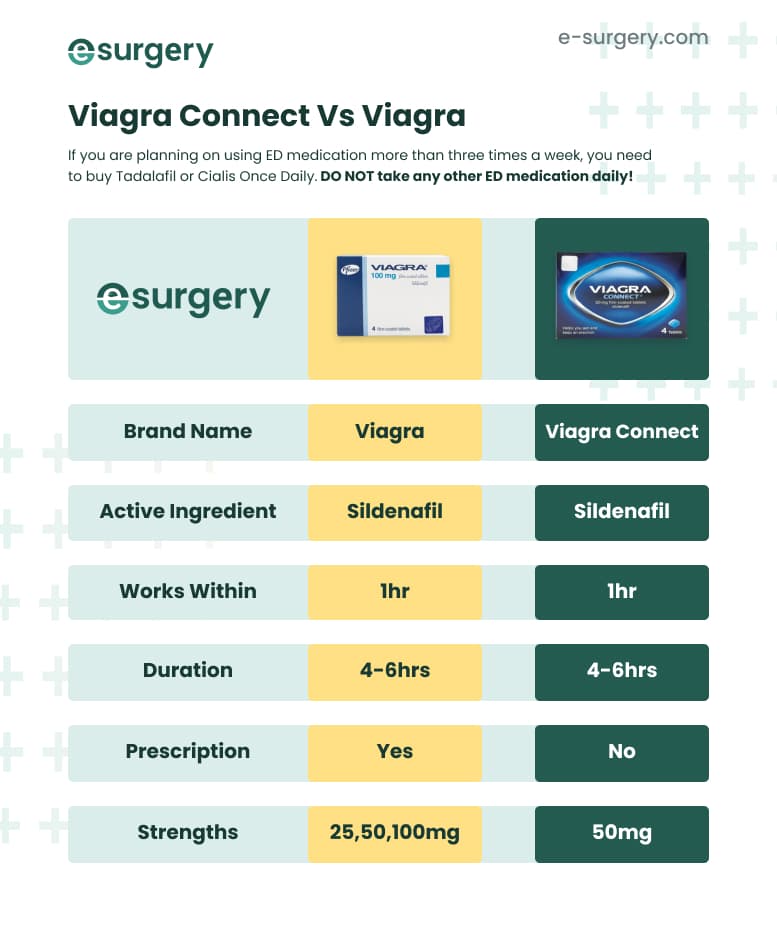 How do I know which option to choose?
If you want to take a medication for erectile dysfunction, it's ideal to talk to your doctor about your symptoms and get their advice on which option is best for you.
Always make sure to discuss other medications you might be taking with your doctor to ensure no medication interactions. [6]
Can I get Viagra and Viagra connect online?
You can buy viagra and viagra connect tablets from e-Surgery in the comfort of your home. Before buying any Erectile Dysfunction medication, you have to answer a health questionnaire, and one of the e-Surgery prescribers will make sure that the treatment is right for you.
Viagra may be able to help you with erectile dysfunction. If you want to take viagra or viagra connect for your ED symptoms, you should first consult a doctor.
If you're having other symptoms besides ED, you should contact your doctor or a specialist, such as a urologist. They can analyze your symptoms and determine if an underlying disease causes the ED.
Sources
What's the Difference Between Viagra and Viagra Connect? (Science direct)
Top 5 ED Pills In The UK (E-Surgery)
Viagra connect patient information leaflet (Medicines.org)
The truth about generic viagra (e-Surgery)
How to Get Viagra: 6 Options & Prescription Information (healthline.com)
Further Reading
Share with
Who Are We?
e-Surgery is a UK based online prescriber and pharmacy that cares. We care about health, we care about the environment, and we care about you. We want to modernize sustainable healthcare and empower you to take control of your health, your way. At e-Surgery, we offer a completely free Ask-a-Pharmacist service, making it quick and easy to get advice from a registered Pharmacist. Let us know if you have any additional questions, we are here to help! Here at e-Surgery, we take the utmost care in providing accurate and well-sourced blog content on a variety of healthcare topics. Our blog content is never intended as a substitute for professional medical advice. Always consult with your GP or healthcare professional if you have any personal healthcare questions.