If you are looking for a new ED medication, it can be difficult to decide between Spedra vs Viagra.
You must understand the key differences between these two medications so that you can make an informed decision about which one is right for your needs. Below we will cover everything you need to know about these two medications.
What is Erectile Dysfunction/ED?
Erectile Dysfunction or ED is a medical condition that affects a man's ability to have an erection. ED is known to have different causes, the most common of which is age-related degeneration and narrowing of blood vessels within the male reproductive organ.
Other factors such as psychological reasons and other physical conditions can also contribute to ED. Fortunately, there are currently several treatment methods that can help patients with ED.
Erection problems are very common, particularly in men over 40. [1]. One of the best and most popular treatments for Erectile Dysfunction nowadays is by taking a pill called Spedra, or Viagra.
Note: You should consult your doctor before starting any new medication.
What is Viagra?
Viagra (Sildenafil) is a well-known and much-used medication for male impotence, also known as erectile dysfunction (ED). [2]. It was first marketed by Pfizer in the 1990s, and since then, has been a best-seller among prescription medications for its success rate of around 80%.
Viagra works by allowing the blood vessels in certain areas of the penis to dilate, allowing more blood to flow into them and creating an erection. [3].
Viagra contains the drug sildenafil. Sildenafil is an oral medication used to treat erectile dysfunction in men. It is identified as a phosphodiesterase inhibitor, which works by blocking the conversion of the chemical signal PDE5 to cGMP.
Viagra comes as tablets that are taken by mouth. In most cases, it should be taken about an hour before sexual activity takes place. However, for many men with erectile dysfunction, the effects last much longer than an hour. Viagra comes in three different doses: 25mg, 50mg, and 100mg.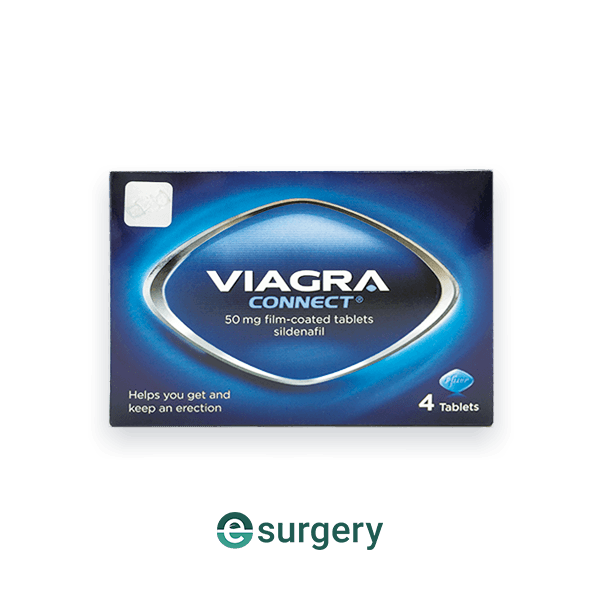 What is Spedra?
Spedra (Avanafil) is the brand name of an erectile dysfunction drug that's marketed as Spedra, Aspire 36 and Arasys. It was launched by Madrid-based pharmaceutical company Esteve.
The active ingredient in Spedra is avanafil which belongs to a group of drugs called phosphodiesterase type-5 inhibitors. [4].
Spedra is a fast-acting pill taken approximately an hour before sex, and it starts to work within about 15 minutes – faster than Viagra, which takes on average 30 to 60 minutes to start working.
What is Generic Sildenafil?
Sildenafil is the chemical name for erectile dysfunction medication sold as Viagra, Revatio and other brand names. It works by relaxing muscles and increasing blood flow to particular areas of the body. It's used to treat erectile dysfunction (impotence). [5].
Sildenafil belongs to a group of drugs called phosphodiesterase type 5 inhibitors that block an enzyme called phosphodiesterase-PDE5. It helps create more nitric oxide in the corpus cavernosum, which causes blood vessels to dilate and improves blood flow.
What Is The Difference Between Sildenafil Vs Viagra Vs Spedra?
The active chemical of Viagra and Sildenafil tablets is Sildenafil. Sildenafil is the unbranded version of Viagra and works in the same way that viagra tablets do!
Spedra has the active ingredient Avanafil which is different to branded and unbranded Sildenafil as it has a faster and more efficient way to get into the body and provide its effect; It does this thanks to its fast-release formula, which can start working up to half an hour after taking it!
Viagra, on the other hand, takes 30 minutes to 60 minutes for full action. [6].
Spedra is also more effective than Viagra, and it can work even if just 25% of sexual desires are still alive. These differences may not be much, but if you want to have an effect as soon as possible, Spedra is the right product for you.
Sildenafil has been used by millions of men worldwide, and its effectiveness is backed by scientific research, making it one of the safest pills on the market today. It does not heal erectile problems but only provides solutions to them to achieve and maintain an erection long enough (usually 2-3 hours).
View the graph below to quickly see the differences in various ED medications to help aid your decision in which medication is right for you!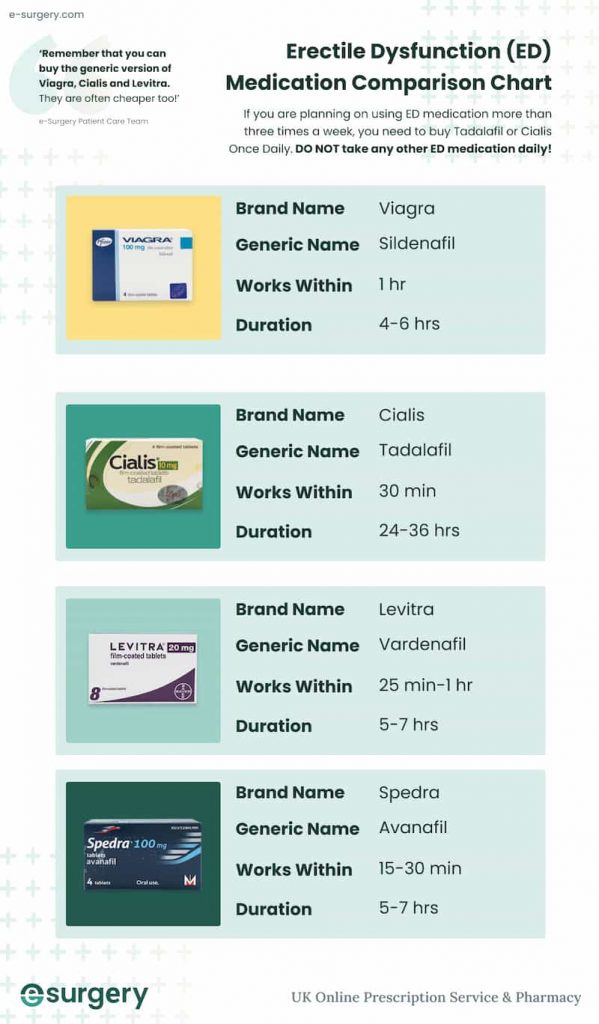 Still unsure of the differences between Spedra and Viagra? We have created a further breakdown for you in the infographic below: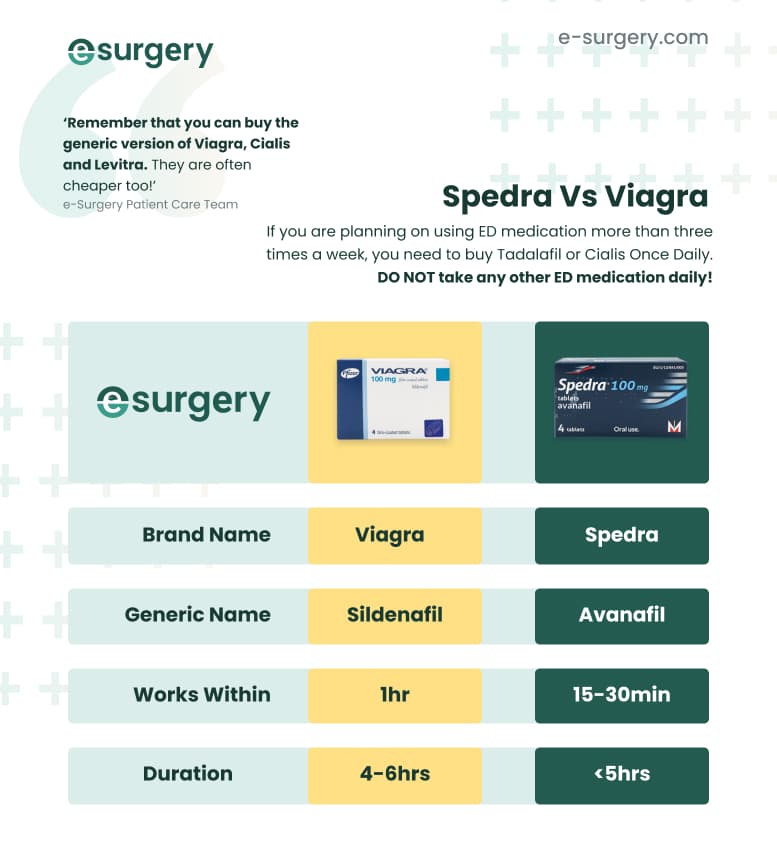 How Do I Know Which Option to Choose?
Viagra and Spedra differ in several ways. The side effects can be different; how long it takes for the medication to take effect may vary, the cost of the drug may differ, and there can also be differences in how long you need to take it for the best results. There's no such thing as a one size fits all medication when it comes to ED drugs.
Please consult your doctor before taking any of these drugs.
Can I get Viagra, Sildenafil and Spedra Online?
Yes, you can get Viagra, Sildenafil and Spedra online from our E-surgery online pharmacy. All you need to do is enter your details, and we will ship it to your doorstep.
Our products are 100% regulated and guaranteed safe. We only work with the top suppliers in the country who provide 100% genuine medication (the same that you would find in your local pharmacy) which we then sell to our customers online.
Conclusion
There are many options for men experiencing erectile dysfunction. Viagra is the most well-known and popular, but it's not the only option available to you. Spedra and generic Sildenafil can also help with ED symptoms like difficulty getting or keeping an erection long enough to have sex. If any of these sounds like a good fit for your needs, visit our Erectile Dysfunction treatment page now!
Sources
Further Reading
Viagra vs. Cialis vs. Levitra vs. Stendra | Healthline
Which drug for Erectile Dysfunction? | Harvard
Medications for Erectile Dysfunction | Drugs.com