Prescription Strength Acne Treatment
Get Rid Of Acne Quickly and Safely
Order Now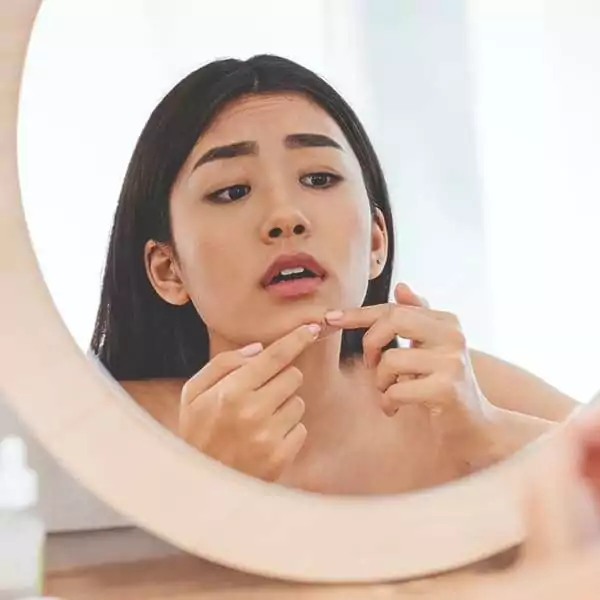 How it Works
Our service works in just three simple steps.
Choose your treatment
Complete a consultation
Delivered to your door
Choose your treatment
Search for your medication, condition, or Ask-a-Pharmacist if you need advice about your health.
Complete a consultation
Answer a quick consultation about your health, our prescribers will ensure that the medication is safe for you.
Delivered to your door
Your medication is dispensed from our UK Pharmacy and delivered to you by Royal Mail in recyclable packaging.
Frequently Asked Questions
Have a question ? we're here to help
What Is Acne? Why do I keep getting spots?
Acne is a common skin condition that causes black, white or red spots, usually on the face. It can also affect the back and the top of the chest. It can be caused by a wide variety of factors, such as increased hormone levels and stress.
What causes Acne?
Acne is caused when tiny holes in the skin, known as hair follicles, become blocked. Sebaceous glands are tiny glands found near the surface of your skin. The glands are attached to hair follicles, which are small holes in your skin that an individual hair grows out of. Sebaceous glands lubricate the hair and the skin to stop it from drying out. They do this by producing an oily substance called sebum, some acne treatment will help to prevent the production of sebum.
In acne, the glands begin to produce too much sebum. The excess sebum mixes with dead skin cells and both substances form a plug in the follicle. If the plugged follicle is close to the surface of the skin, it bulges outwards, creating a whitehead. Alternatively, the plugged follicle can be open to the skin, creating a blackhead. Normally harmless bacteria that live on the skin can then contaminate and infect the plugged follicles, causing papules, pustules, nodules, or cysts. Acne treatment can help to prevent this from happening and heal the acne faster.
How can I prevent Acne?
Treatment for acne depends on how severe it is. It can take several months of acne treatment before acne symptoms improve. If you just have a few blackheads, whiteheads, and spots, a pharmacist should be able to advise you on how to treat them successfully with over-the-counter gels or creams (topical treatments). Acne tends to affect everyone differently, so it is best to speak with your healthcare provider to find the best solution for you.
See more
We deliver your medication in FULLY recyclable packaging with special next day delivery!
Start questionnaire